Table of Contents
Video Poker
Video Poker is an automated version of five-card stud. The player places a bet, then clicks DEAL to receive 5 cards. The player selects the cards he or she wishes to keep in his or her hand, then clicks DRAW to replace any cards which are not held with new cards, revealing the player's final hand.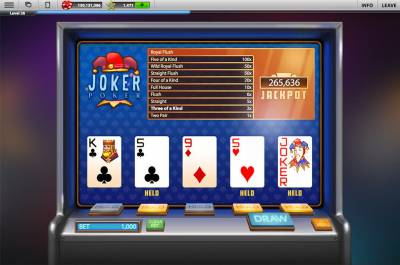 The objective is to get the best possible hand. A table on-screen describes the payout multiplier for each type of hand. The payout will be the bet times the highest-paying multiplier which describes your hand.
If you haven't played poker before, you may wish to review a list of possible hands.
There are a few Video Poker game types or variants, and when you play for the first time you will be prompted to select one of the following:
Jacks or Better
Lowest paying hand is a Pair of Jacks. No wild cards.
Deuces Wild
Lowest paying hand is a Three of a Kind. Twos of any suit are wild.
Joker Poker
Lowest paying hand is Two Pair. Deck contains two Joker cards, which are wild.
After selecting a variant, it may be changed by clicking on the logo (e.g. 'Joker Poker') in the upper left of the screen.
Shortcuts
| Key | Description |
| --- | --- |
| Space | Draw/Deal. |
| 1-5 | Hold/Unhold cards. |