Table of Contents
Slots
CasinoRPG has various different slot games throughout the world. To find them, you'll have to visit different casinos where the owner has placed that specific game on their floor. Each slot game has its own unique features, styles and surprises.
Symbol Matches
Click on the INFO button on each slot machine to view the different symbols and what their respective payouts are. Most symbols need to match on a specific line from left to right, but others like the CP, Bonus and Question symbol can be anywhere on the reels.
Auto-Spins
Auto-spins allow you to spin a set number of times without clicking the "spin" button over and over. The more you level up, the higher the auto-spin count you can use. To get 100 auto-spins, you must purchase Citizenship.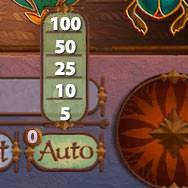 | Level | Auto-Spins |
| --- | --- |
| 5 | 5 |
| 10 | 10 |
| 15 | 25 |
| 20 | 50 |
Free Spins
Free spins are received when you get 2 or more bonus symbols anywhere on the screen. You receive 5 free spins for 2 symbols, and 5 more for each symbol after that.
Bonus Games
Each slot game has a unique bonus game and a unique way of unlocking it. To start the bonus game, each slot game has a "meter" that needs to be filled before the bonus game can begin. For example, the Jungle Slots have 5 statues whose eyes must be lit and Reef Reels must catch 5 jellyfish.
Question Symbols
Each slot game unlocks a unique "mini" bonus game after matching 3+ question symbols. These don't have to be in any particular order or on any specific line to be matched. Getting 4+ question symbols also wins 5 minutes of double experience game-wide.
Item Unlocks
Each slot game has its own unique theme, and with that theme comes a set of items for your casinos. However, some of these items (including the slot machines themselves) must be unlocked before you can purchase them.
In order to unlock them, you must play that slot game in someone else's casino and complete bonus games. Each completed bonus game will give you a chance at unlocking one of the items from that theme. The number of unlocks you have out of the total can be seen on the INFO display for each slot game.
Daily Slots
Every Condo comes with a free Daily Slot machine. You get one free spin every day when you login, and you get a multiplier bonus for consecutive days logged in. Extra spins cost 2 Casino Points each. There is a progressive jackpot and the chance to win exclusive items for your casino, lot and condo that can only be won in Daily Slots.
Slot Tournaments
Slot Tournaments are similar to Slot Sprints; however, instead of being limited to 8 players they are limited to 150 (minimum of 4 players required) and they are scheduled in advance like Poker Tournaments. To view the list of upcoming tournaments and buy-in, visit any slot machine and click on the "LOBBY" button in the top right of the screen.
At the scheduled time, a 60-second timer will start letting you know to get to a slot machine for the start of the tournament. The list of top participants will display and live update along the right side of the screen. These tournaments usually last anywhere from 5-10 minutes depending on the number of participants.
Shortcuts
| Key | Description |
| --- | --- |
| Space | Spin. |